Baby's Story
Baby is 10 years old and the third of seven children to a hardworking farmer from a northern regional  upzilla in Bangladesh.  Baby's immediate elder brothers is also vision impaired.  At the age of three, Baby's parents found out that she was blind.  Her mother, elder brother and sister work at different places and leave her alone in the home for whole day long. Because of that she was unable to perform her daily living activities without others help. Even she cannot communicate with others and could not move independently. Baby's family member determined not to take care of her as they are busy to work for food.
We found her six months ago and took her as challenge. We are now providing home based rehabilitation to Baby and motivate her family member to spend some time with her. Now she has some improvement. So, she wants to study at primary school. Her mother also wants to finish her education and get some job for herself.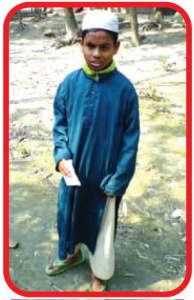 Mamun's story
Mamun's father, Abu bakkr, is a day labor. Mamun is the eldest son among their two sons and daughters. His parents came to know about his blindness 8 months after his birth. Currently Mamun is studying at Rahmatganj Hafezia Madrasa.
He has already memorized two chapters of The Holy Quran. He is eager to study at the Madrasa. In the future he wants to devote himself in religious works. As soon as his mother saw us, she said in an emotional voice: I don't want any money; I am just requesting you to transplant an eye into my son. Later, after talking to her, we came to know that, she is very upset that others call her son "kana" (blind). They think that their son's blindness is a repent for his mother's sins.
We hope Mamun will devote himself in religious works and bring back some daylight and joy into his life as well as his family.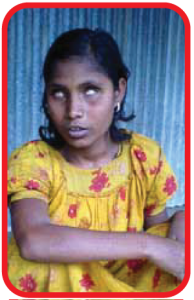 Noor Jahan's story
Noor Jahan's father is a day labor. Noor Jahan is the third child among six children. She lost her eye sight, due to typhoid, at the age of three. Noor Jahan had huge problem in Communication, socialization, cognition and performing his self care activities. It was difficult for Noor Jahan to move around the community even in her home. Family of Noor Jahan was also stigmatized. Noor Jahan has never been to school but she's eager to study. Her mother and father want her to be able to be independent and do her own work by herself.
We started working with her to provide home based rehabilitation. Maybe some day we will fulfill her dream as well as her parent's dream.