MESSAGES FROM Our Executive PRESIDENT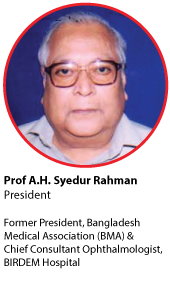 It is with immense pleasure that I write this report as the President of Child Sight Foundation, a role that I am very honoured to carry out. The undertaking of this report highlights the organisation's commitment to its stakeholders and transparency. It is also an opportunity for CSF to inform people about its achievements and future plans.
CSF has achieved outstanding results in its short three year life span. It gained registration with the NGO Affairs Bureau in October of 2004 and has been able to serve blind children on a broader platform.
The main aim of the organisation is to serve the estimated 40,000 blind children in the country, to provide them with treatment and where this is not possible, rehabilitation. The aim is to encourage them to be independent and full members of society. The organisation also seeks to assist the primary care givers of blind children by listening to them and operating in ways, which are conducive to best serving the needs of these two primary stakeholder groups. The organisation is currently in the process of developing a comprehensive programme for blind children, a model in one district, which will address their needs and hopefully be replicated in other parts of the world.
I would like to take this opportunity to congratulate the Executive Committee, the management team and staffs who contributed greatly to the continuous growth and success of CSF.
I am also grateful to the various regulatory bodies such as the Social Welfare Ministry, NGO Affairs Bureau, government and non-government organizations and local and international donors for their support, which has contributed to the success of the organisation.
I sincerely pray to the Almighty Allah to grace us with His blessings in our continued efforts in achieving success in the future.
Prof. A H Syedur Rahman
President
Child Sight Foundation